---
EU July 2021 ending of the €22 import VAT exemption!
Time is running out to the EU-regulated removal of the import VAT exemption limit (de-minimis) on low value goods, July 1st, 2021.

Are you prepared for this?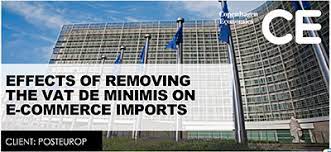 Currently EU and non-EU sellers selling goods online to EU consumers can import the goods into the EU, directly to the consumer, import VAT-free if the consignment of good(s) is valued at €22 or below. This ends 1 July 2021 and all imports will be subject to EU VAT.
PayGround had the first European solution in place for the removal of the de minimis and helped Swedish Post (PostNord) to quickly launch a solution. Since then, we have met many national posts around Europe and the challenges they face in order to have this in place by July 1st vary, but one thing is for sure…..PayGround can help in this process!
Include PayGround in your process and learn from our experience.
Call: +46 (0)8-41018370         info@payground.se